Everyday Catering
BREAKFAST/BRUNCH BUFFET
ASC Continental
Assortment of Bagels, Muffins & Baked Pastries, Served w/ a Fruit Salad or Fresh Fruit 8.25

Hearty Breakfast
Soft Scrambled Eggs w/ Choice of Bacon, Pork or Turkey Sausage & Choice of Breakfast Potatoes or Cheese Grits. Served w/ Freshly Baked Biscuits. Egg Whites Available Upon Request 11.25

Early Bird Special
Choose Any Combination of Our Breakfast Sandwiches Croissants or Biscuits. Served w/ Fruit Salad & Choice of Breakfast Potatoes or Cheese Grits 10.95

Breakfast Sandwiches
Egg & Cheese w/ Choice of Sausage, Bacon, Ham (Turkey Options Available), or Fried Chicken on Your Choice of Croissant or Biscuit 4.95

Smoked Salmon Spread
Cream Cheese, Tomatoes, Lettuce, Red Onion, Capers, Mini Bagels 6.95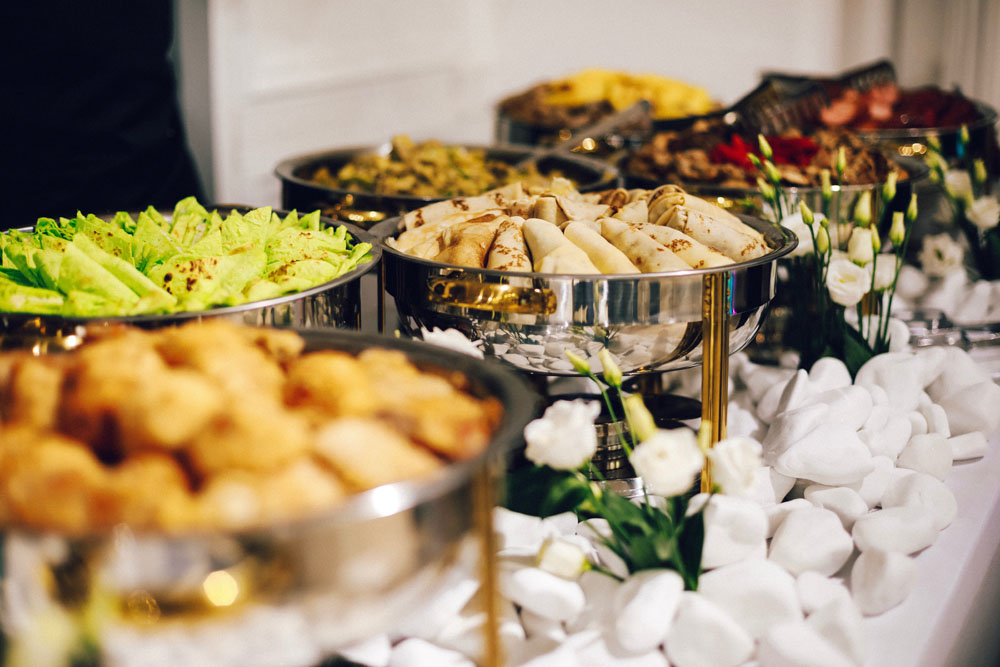 BREAKFAST SIDES A LA CARTE - 3.25
Baked Bread
Choice of Buttermilk Biscuits, Cornbread Muffins, Croissants, Toast

Breakfast Potatoes
Chunked w/ Peppers, Onions, Garlic

Stone Ground Grits
Hot & Creamy w/ Cheddar Cheese

Fried Green Tomatoes
Thick & Crispy, Vegan Option Available

Fresh Fruit
Sliced Seasonal Fruits & Berries

Assorted Yogurts
Yogurts & Greek Yogurts

Breakfast Meats
Ham, Sausage, Bacon, Turkey Options Available Upon Request
BREAKFAST STATIONS
Belgium Waffle
Made on Site, Maple Syrup, Honey, Berries 6.95

Challah French Toast
Thick Slices of Fresh Bread, Local Honey, Berries 4.95

Shrimp & Grits
Creamy Grits & Shrimp w/ a Choice of Toppings 10.95

Bacon, Chicken Andouille Sausage, Grits, Cheddar, Scallions, Jalapenos, Caramelized Onions, Tomatoes, Cilantro

Omelette Station
Made on Site w/ Choice of Add Ins 10.95

Chicken, Ham, Sausage, Bacon, Mushrooms, Spinach, Peppers, Onions, Avocado, Asparagus, Chives. Turkey Options Available Upon Request

Eggs Cooked to Order
Prepared on Site Your Way 4.95

Half Gallon Fruit Juices
Choice of Apple, Orange, Cranberry or Pineapple 11.95

Coffee & Hot Tea
Creamers & Sugar, Lemon 1.99
LUNCH DELI
May Be Served As a Box Lunch or Sandwich Platter. All Combos Come w/ Potato Chips, and a Choice of Small Salad, Coleslaw or Fruit. 10 Person Minimum w/ Each Selection.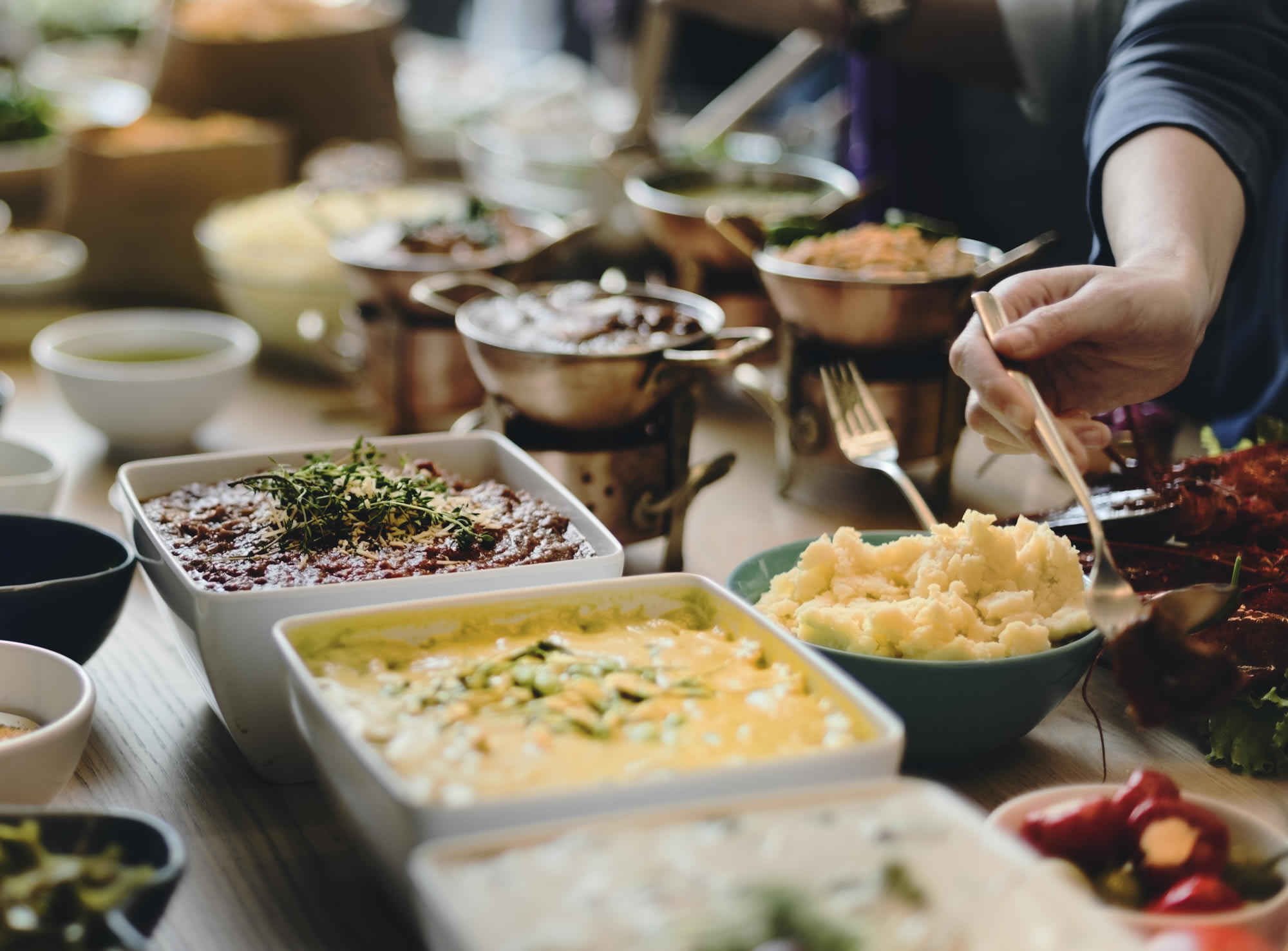 DELUXE COMBOS
Choose Any Assortment of Our Deluxe Deli Sandwiches Below 11.95

Pesto Chicken
Marinated Chicken, Sun Dried Tomatoes, Roasted Garlic, Spinach, Provolone, Mayonnaise, Kaiser Roll

Black Bean Burger
Tender Patty w/ Avocado, Lettuce, Onion, Tomato, Chipotle Mayonnaise, Wheat Bun

Grilled Chicken
Marinated Chicken w/ Lettuce, Tomato, Cheddar, Ranch, Kaiser Roll

Cajun Blackened Chicken
Spicy Chicken w/ Lettuce, Onions, Tomato, Basil, Provolone, Mayo, Kaiser Roll

Jerk Chicken
Caribbean Chicken, Pineapple Slaw, Jerk BBQ Sauce, Coco Bread

Spicy Chicken Wrap
Black Bean, Corn, Avocado, Red Onion, Kale, Tomato, Cucumber, Chipotle Mayonnaise, Tortilla Wrap
CLASSIC COMBOS
Combination Choice of Quality Deli Sandwiches & Hoagies Below 9.95

Choice of Turkey, Roast Beef, Ham, Tuna, Veggie

Bread: Hoagie Rolls & Bread (White, Wheat, Whole Wheat, Whole Grain, White & Rye)

Cheeses: Provolone, Cheddar, White American, Pepper Jack

Veggies & Toppings: Lettuce, Spinach, Tomato, Onion, Pickles, Black Olives, Banana Peppers, Jalapenos

Condiments: Mayonnaise, Mustard (Yellow or Spicy), Oil, Vinegar, Cracked Pepper, Kosher Salt, Oregano, Chipotle Aioli
LUNCH SALADS
Choose Grilled Chicken, or Portobello 11.95
Substitute Steak, Salmon or Shrimp +2.

Cobb Caesar
Romaine,Egg, Avocado, Cherry Tomatoes, Cucumber, Parmesan, Caesar Dressing

Chimichurri
Spring Mix, Avocado, Cherry Tomatoes, Corn, Red Onion, Black Beans, Chimichurri Dressing

Jamaican Jerk
Spinach, Spring Mix, Avocado, Cherry Tomatoes, Red Onion, Bell Pepper, Pineapple Lime Dressing

Cajun Blackened
Iceberg, Romaine, Cheddar, Cherry Tomatoes, Cucumber, Red Onion, Cajun Ranch Dressing

Ultimate Salad Bar
Plentiful Salad Bar w/ Spring Mix Lettuce, Romaine Lettuce, Carrots, Cucumber, Cherry Tomatoes, Bacon Crumble, Shredded Cheese, Sliced Egg, Pepperoncini, Croutons, Assorted Dressings, Crackers 15.95

Proteins Choices of Grilled Chicken Breast Strips, Ham, Turkey, Chicken Salad, Tuna Salad. Substitute Steak, Salmon or Shrimp +3

HOT BUFFET
Each Entrée Comes w/ Two Side Dishes of your Choice w/ Rolls & Butter. Pasta Entrees Come w/ a Salad or Soup & Garlic Bread. Served Buffet Style & Priced Per Person.
Minimum of 10 People Per Entree
SOUPS & SIDE SALADS
French Onion Beef
Stock, Onion, French Bread, Gruyere

Caribbean Black Bean
Jalapeno, Sweet Potato, Cilantro

House
Iceberg, Spring Mix, Tomato, Cucumber, Red Onion, Cheddar

Caesar
Romaine, Parmesan, Croutons, Cracked Pepper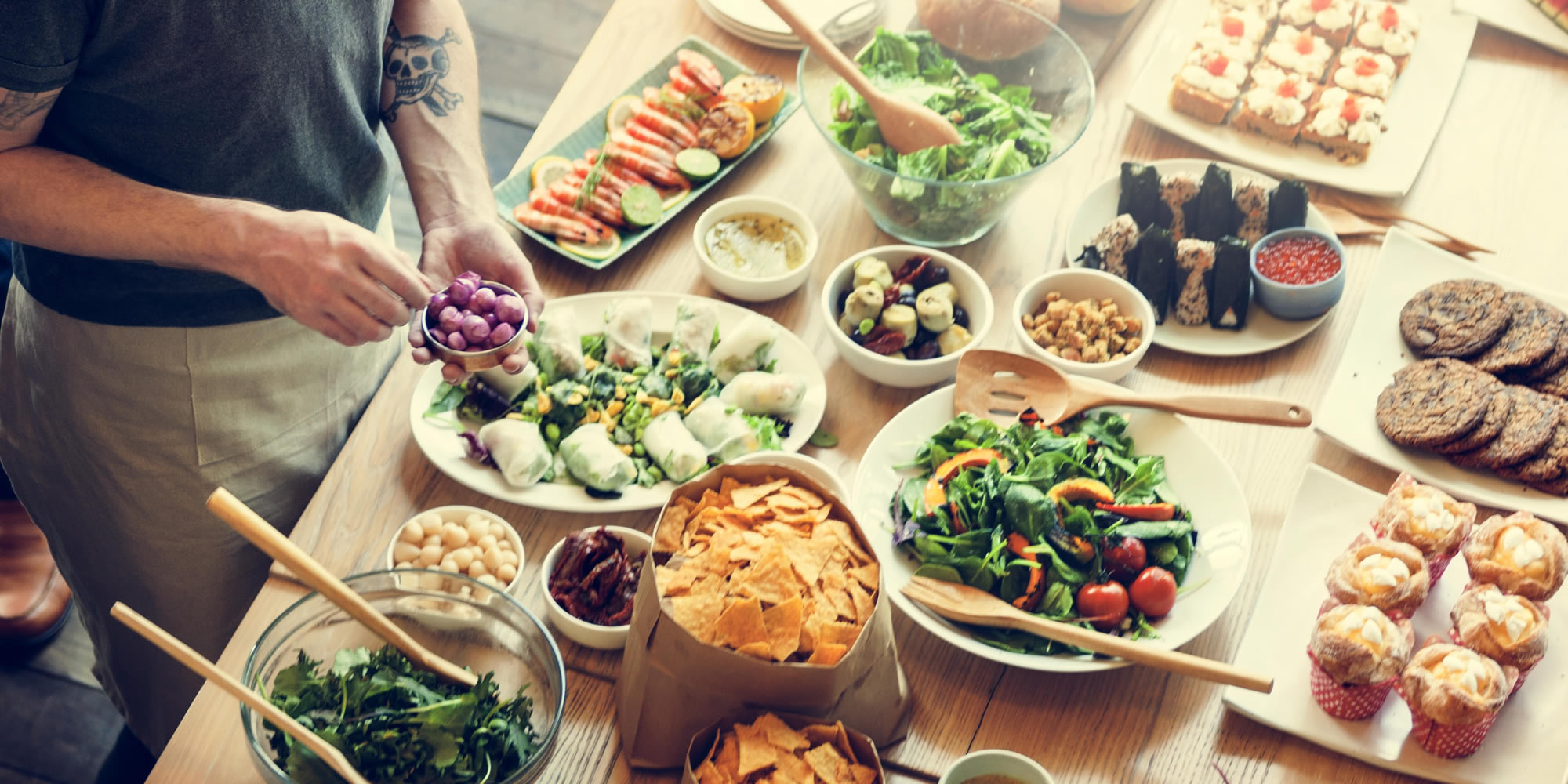 VEGETARIAN
Portobello Steak
Juicy Grilled w/ Avocado Chimichurri Sauce 13.95

Curried Vegetable Pot Pie
Potatoes, Carrot, Chickpeas, Broccoli & Onion In a Buttery Crust 12.95

Eggplant Parmesan
Crispy Patties In a Garlicky Marinara Sauce 13.95

Vegetarian White Lasagna
Garden Vegetables In a Creamy White Parmesan Sauce 13.95

CHICKEN
Baked Chicken
Choice of Creole, Lemon Pepper, Herbs De Provence, Tandoori, Salt & Pepper 12.95

Jerk Chicken
Smoked w/our signature Jamaican Jerk Marinade 13.95

Fried Chicken
Chicken Seasoned w/ ASC Signature Blend 13.95

Jamaican Curry Chicken
Ginger, Allspice, Plantains 14.95

Calypso Lime Roasted Chicken
Horseradish, Ginger, Garlic, Green Chili Pepper, Baby Onions 14.95

Fried Wings
Crispy & Hot w/ Artistic Soul Seasoning, Mumbo Sauce 14.95
BEEF
Seared Flank Steak
Creamed Spinach, Chimichurri Sauce 15.95

Pot Roast
Braised In Red Wine, Hot Savory Au Jus 14.95

Meatloaf
Cozy Comfort Food Sliced w/ Beef Gravy 13.95
SEAFOOD
Catfish, Tilapia or Whiting, Baked or Fried
Choose from Cajun Blackened, Jerk Rub, Lemon Pepper 15.95

Crispy Salmon
Lemon Butter Sauce, Tomato, Basil 17.95

Jerk Salmon
Fresh Fillet Marinated In Jerk Sauce & Baked Tender 17.95

Fried Shrimp
Juicy Shrimp Tossed In Artistic Soul Seasoning 16.95

Grilled Shrimp Skewers
Marinated Shrimp Lightly Seasoned w/Spritz of Lemon-lime 16.95
PORK
Cajun Smothered Pork Chops W/ Steamed Rice
Fresh Green Beans, Onions, Gravy 15.95
PASTA & BOWLS
Served w/ Salad and Garlic Bread
Lasagna
Beef, Roma Tomatoes, Basil,Fennel, Mozzarella, Ricotta Cheese, Parmesan 13.95

Artistic Soul Creole Linguini Alfredo
Chicken, Shrimp, Bell Peppers, Onions, Blistered Cherry Tomatoes, Parmesan 15.95

Jerk Chicken & Shrimp Penne Pasta
Lime, Cilantro, Bell Peppers, Red Onions, Blistered Cherry Tomatoes, Parmesan 15.95

Chicken Marsala W/ Bow-Tie Pasta
Caramelized Broccoli, Mushrooms, Marsala Wine Sauce 14.95

Chicken Andouille & Shrimp Jambalaya W/ Rice
Bell Peppers, Thyme, Smoked Paprika, Garlic, Green Onions 13.95

Shrimp & Grits
Andouille Sausage, Bacon, Cheddar, Jalapenos, Onions 15.95

Gumbo W/ Steamed Rice
Crab, Shrimp, Andouille Sausage, Okra 15.95

Jessie Mae's Fried Fish & Grits 24
A Tribute To An Angel. Cheesy Grits,Fried Green Tomatoes, Catfish, Shrimp, Scallops, Crab Tomato Butter Sauce

Artistic Soul Supreme 25
Fried Chicken,Fried Snapper, Macaroni & Cheese, Sweet Potatoes, Kale & Collards, Cornbread
Cabbage (Original or Jamaican Stir-Fry)
Carrot, Onion, Bell Pepper, Allspice

Broccoli
Butter, Cracked Pepper, Kosher Salt

Kale & Collards
Pickled Onions, Cracked Pepper, Kosher Salt String Beans (Original or Sweet & Sour) Garlic, Vinegar, Brown Sugar

Vegetable Medley
Sautéed Asparagus, zucchini, Squash, Mushrooms, Red Onion, Cherry Tomato

Macaroni & Cheese
Creamy Sharp Cheddar Baked In Noodles

Okra
Sautéed Blistered Cherry Tomatoes, Onion, Garlic

Dirty Rice
Steaming w/ Ground Beef, Scallion, Onion, Garlic

Rice & Peas
Long Grain Rice w/ Coconut Milk, Scallion, Thyme

Street Corn
Cilantro, Chili, Cotija Cheese, Lime, Mayo

Mashed Potatoes
Creamy Red Skin Potatoes w/ Garlic, Cracked Pepper, Kosher Salt

Mashed Sweet Potato
Cinnamon, Vanilla, Nutmeg

Cole Slaw
Cool Cabbage, Carrot, Mayo, Cracked Pepper, Kosher Salt
Jerk Salmon Rolls
Spicy Filling Drizzled w/ Cilantro Aioli, Smoked Paprika

Cheesesteak Egg Rolls
Tender Sirloin, Onions, Melty White Cheddar

Sweet Chili Meatballs
Beef, Tangy Chili Cranberry Sauce

Jamaican Patties
Hot Pockets of either Beef, Chicken, Veggie

Crab Cake Bites
Moist Mouthfuls w/ Tangy Remoulade Sauce

Jerk Chicken & Waffles
Spicy Chicken, Scallions, Maple Syrup

Flank Steak Sliders
Grilled Medium, Chimichurri Sauce, Diced Avocado,Feta

Wings
Crispy Fried w/ Choice of Flavor
Jerk, Cajun Rub, Lemon Pepper, Garlic Rotisserie, Tandoori, or Buffalo

Antipasto Salad Skewers
tortellini, Olives, Cherry Tomatoes, Fresh Mozzarella, Spinach, Balsamic Glaze

Greek Quesadillas
Spinach, Red Onions, Olives, Cherry Tomatoes, Roasted Red Peppers, Feta, Harissa, Tzatziki

Jerk Quesadillas
Jerk Chicken, Red Onion, Red Peppers, Havarti, Pineapple Salsa

Cajun Seafood Quesadillas
Shrimp, Crab, Cajun Seasoning, Celery, Cream Sauce, Cheddar Cheese, Pico De Gallo
CRAFT SERVICES SPREAD
ASC would love to feed your hardworking crew! We promise to keep them nourished and happy. Contact us today for your craft services quote!
DESSERTS
Cookie & Brownie Tray 2.50 per person
GOURMET CAKE BY THE SLICE 5.95
Sorrell Cake
Whipped Buttercream Icing

Spiced Lava Cake
Cinnamon, Chili Pepper

Strawberry Shortcake
Whipped Cream, Mint Garnish

Chocolate Ombre Cake
White Chocolate, Caramel, Milk Chocolate, Dark Chocolate

Tropical Fruit Mouse Cake – Summer Only
Citrus zest, Buttercream Icing

Carrot Cake
Pineapple, Walnuts, Cream Cheese Icing

Red Velvet Cake
Chocolate Shavings

Cheesecake
Salted Caramel, Chocolate Ganache, Bananas Foster, Pecan Praline, Pumpkin, Sweet Potato, Oreo, Vanilla Bean
PIES & PUDDINGS
Peach Cobbler
Dumplings, Cinnamon, Nutmeg, Vanilla Bean Ice Cream

Sweet Potato Pie
Cinnamon, Nutmeg, Whipped Cream

Carrot Cake Banana Bread Pudding
Salted Caramel

Jamacian Rum Rice Pudding
Spiced Citrus, Coconut Milk

Banana Pudding
Vanilla Bean, Shortbread Cookies, Meringue
CUSTOM & SPECIALTY CAKES
ASC's sister company True Joy Bakery provides custom couture cakes and confections. TJB brings your cake vision to fruition with flavor, creativity and a commitment to quality. Ask about catering and cake savings packages!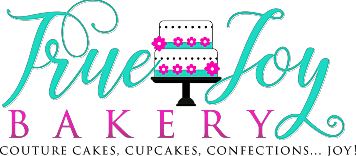 www.truejoybakery.com | This email address is being protected from spambots. You need JavaScript enabled to view it.|404-574-9959
BEVERAGES
Canned Sodas 1.99

Bottled Water 1.99
BY THE GALLON 12.49
Lemonade
Original, Rosemary, Basil, Strawberry, Pineapple, Spiced

ASC Tropical Punch

Iced Tea
Sweetened, Unsweetened, Chai

Fresh Brewed Coffee
(Regular & Decaffeinated) w/ Half-and-half & Condiments

Alcoholic Beverages
Bartending Services Are Available & Provided Upon Request.
By
Chef Antoine